About the Briscoe Center for American History
The Briscoe Center's collection of news media has no equal. It is a gateway to learning the eyewitness history of who we are, who we were, and how we perceive ourselves as a nation.
–Morley Safer, CBS News correspondent (1931–2016)
The Briscoe Center for American History collects, preserves, and shares the evidence of the past, revealing the American story to everyone who wants to learn. Dating back to 1883, the Briscoe Center's collections represent more than a century of collection efforts at The University of Texas at Austin. Its archives, libraries, museums, and historic buildings document the people, events, and ideas that have shaped America. Preserving and sharing the center's collections helps ensure that the history at the heart of American identities, origins, and values remains rooted in evidence.
The Importance of Collecting News Media History
For over three centuries, news publications have shared matters of critical importance to support an informed public, documented the development of communities across America, and provided a vital forum for the exchange of ideas. It's a story of change and adaption, from the first printed periodicals and broadsides to the emergence of the modern newspaper and magazine industries. Radio, photojournalism, and television represented major shifts in the delivery of the news in the twentieth century. The advent of social media signifies another seismic shift. Regardless of the form it takes, news reporting has always played a vital role in American society, a role and a freedom enshrined in the Constitution.
Researchers often rely upon the materials produced by journalists—history's "first responders"—to help them make sense of historic events. News media resources assist students, teachers, and scholars of all disciplines—from advertising to psychology, politics to photography—in their research. Archival materials—documents, photographs, recordings, correspondence, and other objects—allow us to engage more directly with history. These resources lend texture, color, context, and sound to almost every avenue of inquiry.
The Briscoe Center's News Media History Collections
The Briscoe Center for American History's news media holdings are nationally renowned—one of the most comprehensive collections of history's "first draft" that exists. Nearly three miles of archival materials across hundreds of separate collections include the personal papers of historically important media industry pioneers and leaders, clipping and research morgues, oral histories, over 5,000 newspaper titles, thousands more audio and video recordings, and over 7 million photographs.
Highlights include the papers of Walter Cronkite, Morley Safer, Andy Rooney, Jules Witcover, Jack Newfield, and Robert Trout, as well as one of the largest archives of American photojournalism in existence, which includes the collections of Pulitzer Prize–winners Eddie Adams, David Hume Kennerly, Steven Ralph Nickerson, Lucian Perkins, and Carolyn Cole. Newspaper collections include the frontier newspapers of Stephen F. Austin's Texas colony, the Texas Gazette (1829), and the African American newspaper The Free Man's Press (1868). The center also boasts major runs of the Houston Post (1932–1995), The Texas Observer (1952–2004), and the research archives of the New York Times (ca. 1910–ca. 1989), Newsweek (1933–1996), and New York Journal American (1900-1966). Nationally renowned columnists such as Walter Winchell, Molly Ivins, and Liz Smith; Pulitzer Prize–winning cartoonist Ben Sargent; Vanity Fair writer and television commentator Dominick Dunne; and writer and magazine editor Terry McDonell have all donated their papers to the center. Additionally, the center is the home of the records of WRR of Dallas, the first radio station to broadcast in Texas.
Explore Briscoe News Media Collections
Alexander N. Murphree papers
Alison Owings papers
Allen Duckworth papers
Alternative Views video collection
An American Moment collection
Andy Rooney papers
Arthur Lefevre collection
Austin American-Statesman Pulitzer Prize nomination scrapbook
Austin Remember When video collection
Barbara M. Duke collection
Ben Sargent papers
Berkeley Breathed cartoon collection
Bo Byers oral history collection
Bob Brister papers
Boyce House papers
Buckley Burton Paddock papers
Carolyn Cole
Central America collection
Charles Edwin Gilbert papers
Charles H. Moore reminiscences
Clifton C. and Vilia C. Edom collection
Clyde Richard King papers
Curtis Bishop papers
Dallas Morning News Phil Gramm papers
Dave McNeely papers
Dean H. Langston collection
DeWitt C. Reddick papers
Diana Walker photographic archive
Dirck Halstead photographic archive
Dominick Dunne papers
Douglass K. Daniel papers
E. W. and Hazie Davis LeFevre papers
Eddie Adams photographic archive
Edward and Rhea Howard papers
Edward Musgrove "Ted" Dealey papers
Flip Schulke photographic archive
Francis Marschalk family papers
Fred Gipson papers
George Brackenridge estate controversy collection
George Wythe papers
Ginger Miles collection
Gladys Heldman papers
Grace Mirabella Cahan papers
H. L. Mencken letters
Harry Bowman Moses papers
Harry Reasoner papers
Henry D. Burroughs research collection
Henry R. Cassirer papers
Herbert J. Croner papers
Houston Post photographs
Jack Gould family papers
Jack Newfield papers
Jack Newfield papers, Part 1
James "Spider" Martin photographic archive
James E. Kreisle family papers
Jesse Edward Grinstead papers
Jesse H. Jones papers
Jim Hightower papers
Jimmy Banks papers
Joanie Green Whitebird papers
John Bustin papers
John Dominis photographic archive
John Edwin Canaday papers
John F. Knott cartoon scrapbook
John Henry Faulk papers
John Henry Faulk vs. AWARE, Inc., Laurence A. Johnson, and Vincent Hartnett case records
John M. Pope papers
John T. Davis papers
Joseph and Shirley Wershba papers
Jules Witcover
Katherine Pollard Carter papers
Katina Simmons video collection
Laurence Jolidon collection
Leroy Tudor Vernon papers
Les Midgley papers
Liz Smith papers
Lucian Perkins photographic archive
Marcellus Elliot Foster papers
Margie E. Neal papers
Marion Goldin papers
Marjorie Adams papers
Martha Washington Harpold scrapbook
Mary Dorothy Edmiston papers
Maury Maverick, Jr., papers
Michael Eakin papers
Michael L. Gillette collection
Molly Ivins papers
Morley Safer papers
New York Times newspaper morgue
Newsweek Magazine research archive
Palmer Williams collection
Paul Harvey bumper sticker collection
Pearl Cashell Jackson papers
Peggy Sanford Carlin papers
Peter Molyneaux papers
Philip Scheffler papers
Press Women of Texas records
Ralph Bellamy oral history interview
Randy Mack Bishop papers
Richard M. Morehead papers
Robert D. Meckel papers
Robert Mendoza collection
Robert Moskin papers
Robert Trout papers
Ron Calhoun papers
Shad Graham papers
Sig Mickelson papers
Stephen Shames archive
Steven R. Nickerson photographic archive
Steven Singer papers
Sue Flanagan papers
Susan Zirinsky papers
T. A. Hickey papers
T. R. Fehrenbach papers
Terry McDonell papers
Texas Association of Broadcasters records
Texas Observer records
The Leader, Navasota, Texas, ledger book
Thomas Peck Ochiltree papers
UT Texas Student Publications photographs
Vincent family papers
Wally McNamee photographic archive
Walter B. Wilson collection
Walter C. Hornaday papers
Walter Cronkite papers
Walter H. Richter papers
Walter Winchell papers
Wayne Barrett papers
Wilford Bascom "Pitchfork" Smith papers
William B. Ruggles narrative
William Henry and Helen Butler Whitley papers
WNET raw inventory
Women's International News Gathering Service (WINGS) archive and audio tape collection
WRR radio station, Dallas, Texas, records
The collection continues to grow. Recent acquisitions include the research archive of Wayne Barrett, a Village Voice reporter, who amassed the most comprehensive investigative reporting archive about Donald Trump from the 1980s to inauguration known to exist. Other additions include the archive of Robert Moskin, senior and foreign editor for Look magazine for nearly twenty years; the photographic archive of Stephen Shames, most well known as the photographer to the Black Panther Party between 1967 and 1973; and four more producers from the acclaimed 60 Minutes newsmagazine, including Marion Goldin and George Crile.
Together, these collections enhance our understanding of events of the past, the role of the news media, and its impact on all segments of American society.
The Briscoe Center prides itself on how these resources are made available for teaching and research. Students, scholars, journalists, and other members of the public can explore the collections through the center's reading room, its digital media repository, exhibitions, programs, publications, and digital projects. Examples of such work include: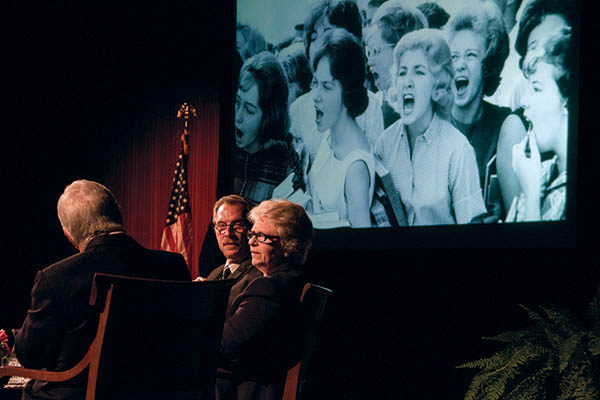 The John Henry Faulk Conferences on First Amendment issues
A symposium and exhibition on Robert Trout's pathbreaking career
Books such as Conversations with Cronkite and The First Texas News Barons
Major exhibitions including Cronkite: Eyewitness to a Century, News to History: Photojournalism and the Presidency, and 60 Minutes: The Pioneers Who Changed TV News
Graduate students use our collections for their dissertations such as Mike Conway's The Origins of Television News in America: The Visualizers of CBS in the 1940s.
Digital projects such as Dan Rather: American Journalist, which provides access to extensive photo, print, video and audio documentation about the life and career of Rather and his impact on American journalism.
Support the News Media History Collections
Without sources, there is no journalism. The same is true for history. That's why the center, under the direction of Dr. Don Carleton, a scholar in the history of news media and politics, has spent a quarter of a century collecting, preserving, and sharing news media history collections. Philanthropy makes our efforts to share these resources through books, exhibitions, digital projects, symposia and graduate research possible.

Preserving and sharing the center's collections helps ensure that the history at the heart of American identities, origins, and values remains rooted in evidence.
—Don Carleton, Executive Director and J. R. Parten Chair in the Archives of American History
Vision
Archives enable societies to critically analyze historical trends, to measure cultural impacts, to provide context for present controversies, to ask hard questions, to encourage discussions, and to justify change. At a time when members of the press are being called "the enemy of the people," it is imperative to offer this evidence for a critical study of the American news media.
With your help, the Briscoe Center seeks to solidify our leadership position in collecting, preserving, and making the history of news media available to a wide audience with an endowment to fund the collection in perpetuity.
The collection may be endowed with one gift from a single donor or be comprised of several smaller endowments established by multiple people. Several naming opportunities are available. The News Media History Collection endowment will ultimately support several key positions including a curator, archivist, and student interns. The endowment will also support travel awards for writers and research fellowships for students and scholars to work onsite in the collection as well as provide recurring funds to continue collecting, preserving, and facilitating the use of material in the collections, both onsite and with remote access, for teaching and research.
A named curator for news media history may possibly be the first such position anywhere. The endowment name will be cited as the title of the curator in research articles, publications, curated exhibitions, and in news stories about the collections. Thus, over time, an important body of scholarly work will be credited to the donor's support of the preservation and interpretation of news media history.
The Briscoe Center is grateful to the Marion Goldin Charitable Gift Fund for providing leadership support of exhibitions, programs, and projects in the center's News Media History Collections.